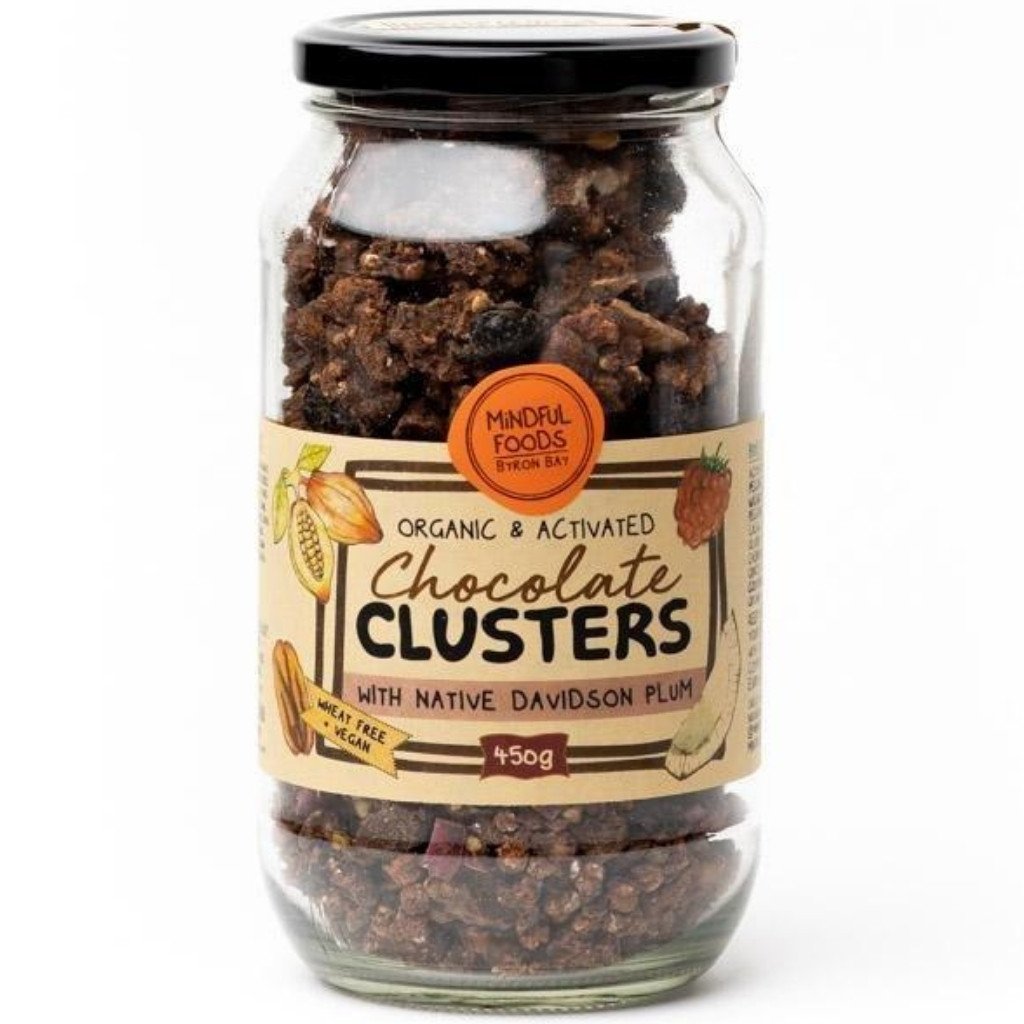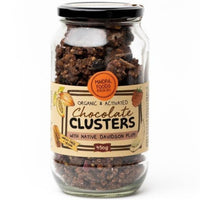 Clusters Chocolate Davidson Plum - Organic & Activated
The Perfect "Nom Nom" Snack. These cookie-like clusters of organic vegan chocolate and kombucha activated nut butter, nuts, seeds, coconut, raspberries, cherries and native Davidson plum, will surely satisfy! They are full of goodness and are Mindful Foods' answer to those moments when you just want something sweet, crunchy and delicious to munch on! Next time you find yourself wanting to put your hand in the cookie jar, choose a healthier option, and put your hand in this bag instead!
Kombucha-activated nuts & seeds (walnuts** buckwheat** pecans ** pepitas*) activated nut butter (almonds** brazil nuts* cashews* hazelnuts* pecans** walnuts**) raw macadamias** maple syrup* cacao liquor* puffed sorghum* dates* coconut* uncontaminated gluten friendly oats** raspberries* cherries* davidson plum* cacao powder* cinnamon* ginger* cacao nibs*vanilla* nutmeg* rock salt*

*=Certified organic ingredient; **=Australian grown

Activated: Activated foods are easier to digest, are more nutrient-rich (bio-available), and delectably crunchy.

Allergens: May contain traces of seeds/ nutshells.
- Smoothie Bowl Toppers
- Breakfast Clusters
- Snacking & Noshing
Kept fresh in attractive, pantry-worthy glass jars and earth-friendly compostable bags, Mindful Foods have gone to the Nth degree to ensure the utmost quality, nutrition, and environmental consideration. Best kept in a cool and dry place.
Made With Heart In
The Beautiful Northern Rivers
Mindful Foods was conceived in the Byron Bay sunshine from a shared love of food and the planet. As we grow and morph, we stay true to the dream of giving back - to nature, our bodies and each other.