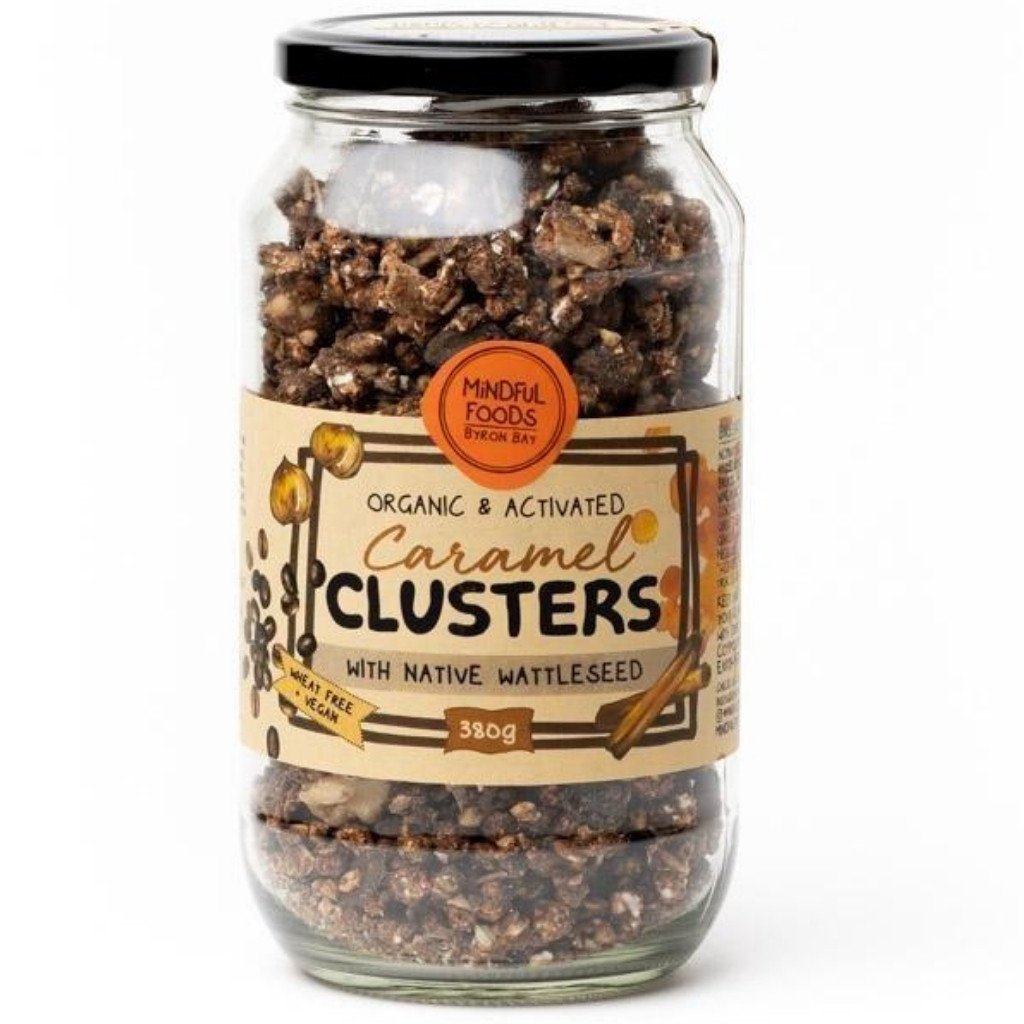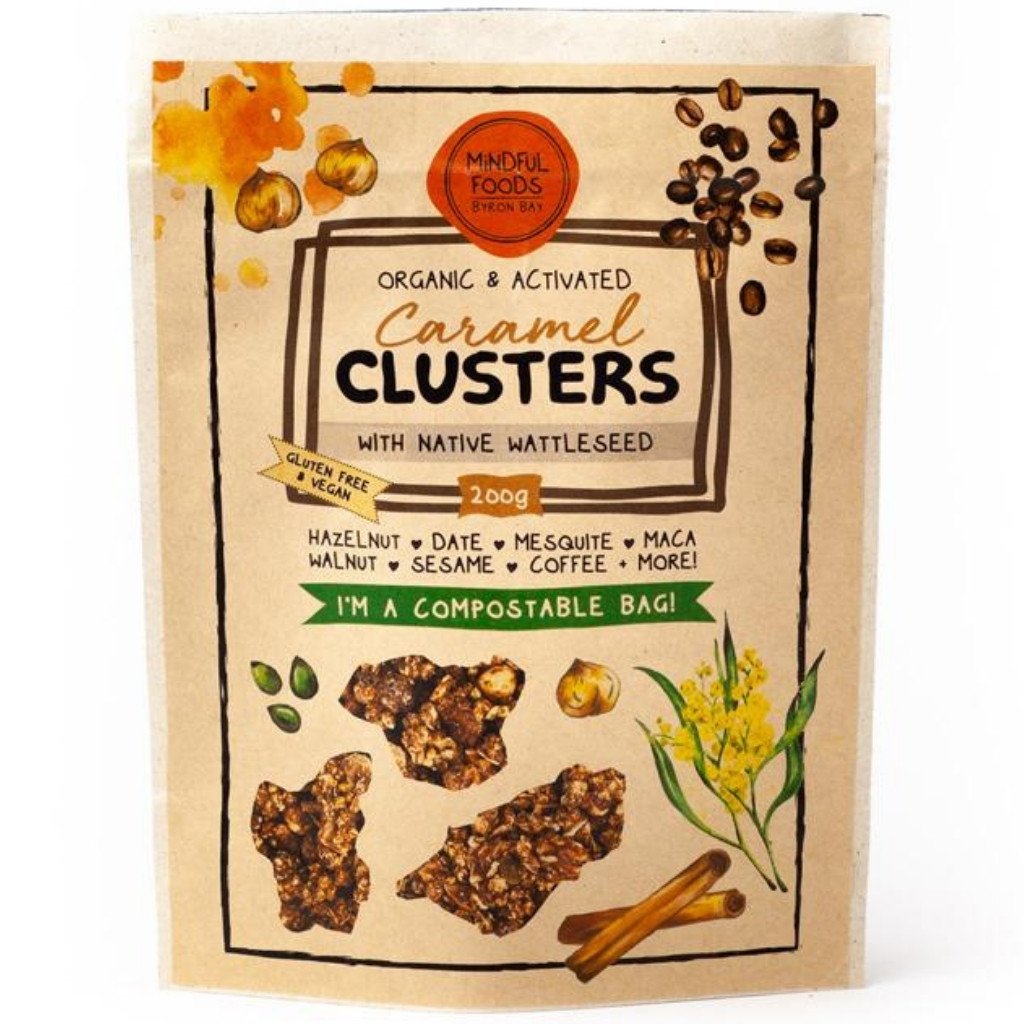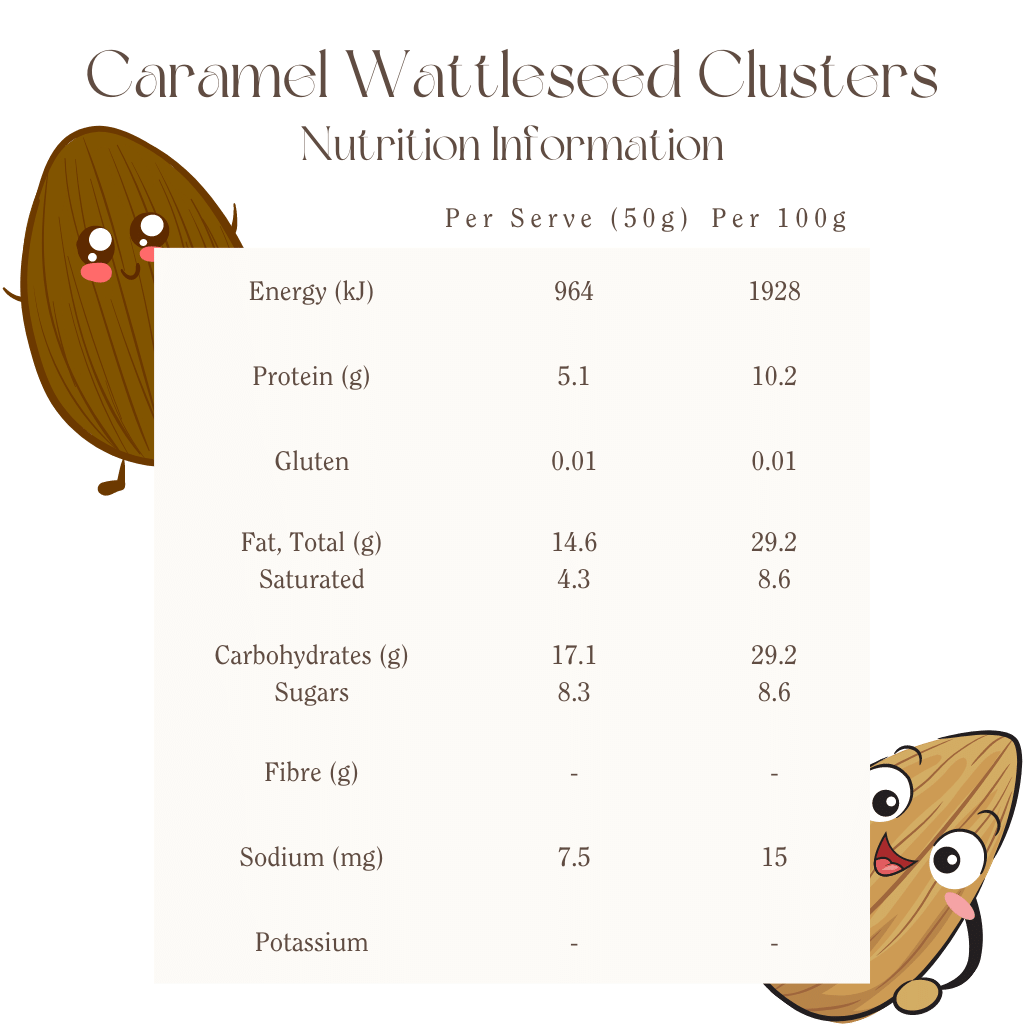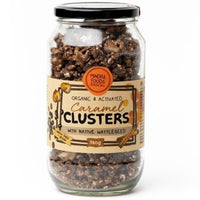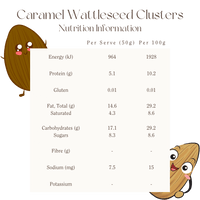 Clusters Caramel Wattleseed - Organic & Activated
The perfect "Nom Nom" snack! Native Australian wattleseed pairs perfectly with the smooth, creamy & caramelly notes of dates, maple, mesquite, and maca. Spiked with a hint of roasted coffee, a splash of vanilla brandy, and zingy ginger, these crunchy, nutty, flavour-full clusters are sure to satisfy, and leave a damn fine taste in your mouth.
Kombucha-activated nuts & seeds (buckwheat** hazelnuts** walnuts** pepitas*) maple syrup* kombucha activated nut butter (almonds** brazil nuts* cashews* hazelnuts* pecans** walnuts**) raw macadamias** puffed sorghum* dates* coconut* coconut powder* gluten friendly uncontaminated oats** black sesame* inca berries* coffee* cinnamon* ginger* vanilla brandy* cacao butter* wattleseed* maca* mesquite* rock salt* clove*

*=Certified organic ingredient; **=Australian grown;

Allergens: May contain traces of seeds/nutshells.
Ideal as Smoothie Bowl Toppers, Breakfast Clusters or simply snacking & noshing YUM. Activated foods are easier to digest, are more nutrient-rich (bio-available), and delectably crunchy.
Kept fresh in attractive, pantry-worthy glass jars and earth-friendly compostable bags, Mindful Foods have gone to the Nth degree to ensure the utmost quality, nutrition, and environmental consideration. Best kept in a cool and dry place.
Made in Australia from at least 50% Australian ingredients.
Made With Heart In
The Beautiful Northern Rivers
Mindful Foods was conceived in the Byron Bay sunshine from a shared love of food and the planet. As we grow and morph, we stay true to the dream of giving back - to nature, our bodies and each other.