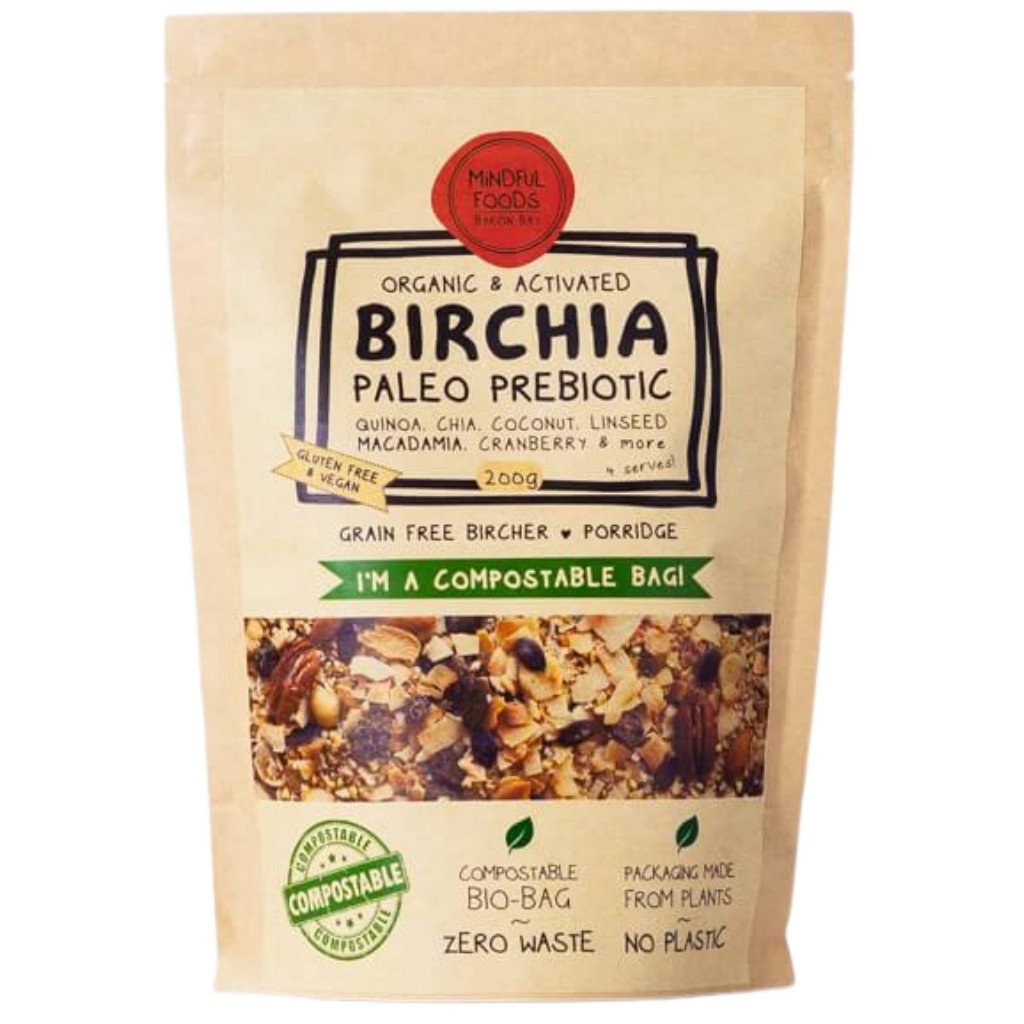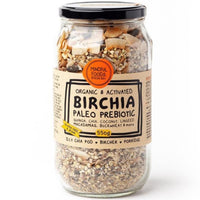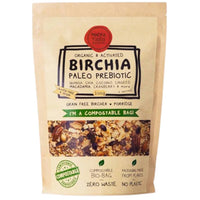 Birchia Paleo Prebiotic - Organic & Activated
Your belly will love breaking the fast with Birchia! Birchia has been crafted to provide a high-fibre boost to your all-important gut bacteria. A delicious, super healthy versatile blend that can be made into a bircher muesli, a warming porridge, added to smoothies, or sprinkled on yoghurt. Soaking overnight with a teaspoon of yoghurt will cultivate a bowl-full of probiotic goodness that your belly will love!
Activated nuts & seeds** (buckwheat* almonds* pepitas* pecans*) rolled white quinoa* black chia seed* toasted coconut chips* golden linseed* raw macadamias* ginger* cinnamon* mesquite* maca powder* ;

*=Certified organic ingredient;
**= Activated in kombucha*, filtered water + Australian rock salt

Allergen Info: May contain traces of other nuts or shells.
For 1 Serve: Mix 1/4 cup Birchia with 1/3 cup of your preferred milk or juice. Leave covered in the fridge overnight (or minimum 15 minutes) add a teaspoon of yoghurt or a probiotic capsule before soaking to increase good gut flora! Serve hot or cold, with fruit, honey, yoghurt, or anything you fancy.
Best kept in a cool and dry place. Kept fresh in attractive, pantry-worthy glass jars and earth-friendly compostable bags, Mindful Foods have gone to the Nth degree to ensure the utmost quality, nutrition, and environmental consideration.
Made in Australia from 50% Australian ingredients.
Made With Heart In
The Beautiful Northern Rivers
Mindful Foods was conceived in the Byron Bay sunshine from a shared love of food and the planet. As we grow and morph, we stay true to the dream of giving back - to nature, our bodies and each other.